Remember the "Sixteen Going on Seventeen" song from the film The Sound of Music? That's the power of a gazebo! It can romance, entertain, relax, rejuvenate, and unwind people like no other outdoor setting can.
Since those days, gazebos have transformed into a status symbol, and also a reflection of your refined personal taste. They are great outdoor entertainers for any reason and any season. Permanent or pop-up, large or small, gazebos offer social mingling in a hospitable, relaxed atmosphere that often combines work, leisure, and pleasure.
If you are planning a new gazebo installation in your patio, backyard, or garden, there are important considerations to delve upon before you make the investment. The tips below will guide you through the entire gazebo selection process.
Where Should I Install My Gazebo? (Location Is Important)
Your plans to create a gazebo of your dreams should begin with this question.
Do you want it to be your weekend destination? Then select a location with a view that relaxes and helps you unwind. If it is a personal and intimate escapade, then it's got to be a secluded, discreet corner nestling behind an overgrowth of foliage. For parties and gatherings, let your gazebo be at the center of your patio or backyard so that it gives you space on all sides. That reasoning holds for temporary pop-ups for celebrations and BBQ parties as well.
Remember, without a relevant location, your gazebo may lose its own relevance.
How Much Space Should I Allocate for a Gazebo?
We would say enough space, but then, you would hold us guilty of generalization. So, follow these pointers:
For gazebos meant for socializing

 

(parties and gatherings of twelve to 25 guests; more would be a crowd): about fifteen feet on all sides, since your gazebo would be at the center.
Gazebo for family and friends

 

(twelve members): Corner or center units with an in-built space of about 16' x 16', and foreground of about 150 square feet.
Intimate escapade:

 

A very subjective consideration. Still, let it nestle amidst dense foliage, leaving about 10' space on all sides. And let your gazebo space be of the size of your bedroom.
For meditation, reflection, yoga, workouts, and all other quiet moments of "your time":

 

Follow the principle of minimum clutter, maximum space. Leave at least 10' open space on all sides.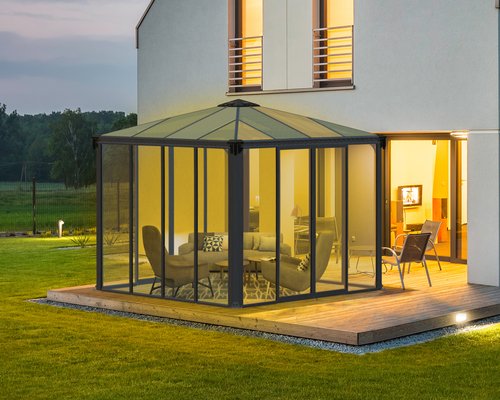 The answer is relative to the purpose and the number of people your gazebo will entertain. Here are some general guidelines:
8' x 8' gazebos are compact units ideal for family sit-outs and dinner in small backyards.
12' x 12' is the universal size of a family gazebo, regardless of the country or the outdoor culture. It will comfortably accommodate a family of four and six guests.
14' x 14' for small gatherings or business over dinner. The optimized capacity is 13-15 persons.
18' x 18' for permanent as well as pop-ups, this is the gazebo size to seek if you are a social animal and love entertaining groups of up to twenty guests.
You will notice that all the above sizes make for a square gazebo. That's because a square offers an ideal balance between floor-space utilization and elbow-room.
What are the Best Materials for Gazebos?
These are the three commonly used materials:
Wood
Your backyard or garden is full of wood elements. All your flora and trees are wood. And your patio bar, furniture, lounging chairs… they are wooden too. The reason why wood is the most popular material for outdoor use are:
Wood "grows on you" in outdoor settings.

 

It is an inspiring and soothing material, it connects you with the natural elements.
Outdoors are wood's "natural habitat."

 

Wood feels at home in outdoor utilities.
Functionally

 

too, there are many benefits of wood:

Non-conductive
Very durable
Maintenance-friendly
A vast variety of natural textures -- maple, teak, oak -- they all have distinct surfaces
Many finishing options -- stain, varnish, shellac, lacquer, French polish and more.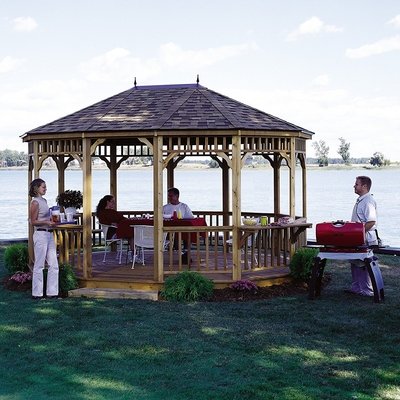 Polyvinyl chloride or vinyl is a widely used building material. Flooring, door and window frames, plumbing pipes - vinyl is preferred because it is:
Water-proof
Climatically stable
UV-resistant
Stain and scratch-proof
Maintenance-friendly
Long-lasting
You would want a vinyl gazebo if you want an affordable alternative to wood, without compromising on the exclusive looks.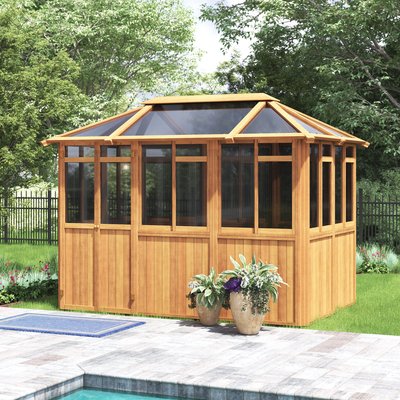 Fabrics
They are used more in temporary units. They have a colorful, cheerful, and vibrant persona. With the vast range of colors, designs, and patterns, you could imagine and install any type of pop-up gazebo with fabrics. These are your fabric choices:
Canvas
Denim
Cotton with multiple layers
With fabric tents, you could create boho environment that add to the energy of the party or the gathering.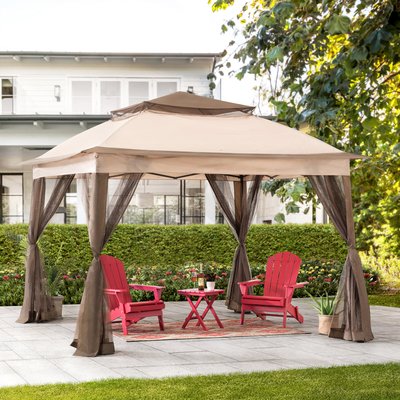 What Types of Gazebos are there?
You have these design options:
Wall-backed
These are the affordable gazebos that are installed with the backing of an exterior wall or a glass door. Compact and easy to build, they often have four wooden or steel pillars with drapes tied to them. Some designs have a glass or acrylic enclosures with a door. A sloping roof enhances their outdoors look-and-feel.
If you have limited backyard space to spare and still want the exclusivity of a gazebo, go for this type. Bonus point: you can keep changing the looks by simply changing the drapes periodically.
Pop-up
These are available in kits that you can DIY to erect a gazebo. Mostly of a temporary nature, they are ideal for special events and celebrations. Do you have a birthday or anniversary coming up? Take out your pop-up kit from the attic, quickly install it in your patio, and the party is on! If you wish, you can make it a permanent installation, but we would advise against it. Their materials such as fabrics, screens, nets, and PVC films are not made to withstand the sunlight, rain, or high winds.
So, bring out your pop-up gazebo kit only on special days.
Canopy
These are the cousins of pop-up gazebos; only, they are of permanent nature. Having more durable roofs made from rigid PVC sheets or other UV-resistant materials, they can last under direct sunlight. The drapes, curtains, screens, and nets, they all adorn the corners and sides of the unit.
Canopy is essentially an open gazebo meant to make you feel the air in your hair, literally. Enjoy reading a book or even dozing off merrily under this breezy canopy. It is an affordable luxury.
Dome
This is more of an aesthetic variant in gazebo designs. Instead of a sloping roof falling over the hexagonal, octagonal, or square dimensions of the structure, you have a dome. It gives a colonial look to the gazebo.Importantly, since adome does not require any structural support, you can utilize the floor space more effectively and efficiently.
Brick-n-mortar
These are the "real" gazebos, permanent structures built to last forever. Built like a room, they have a foundation on which the gazebo design is constructed. It can be a cozy 2-seater by the pool, or a spacious pavilion meant for family, friends, and friends of friends. Their distinct features are:
Constructed, wood, or plastic structure
Hexagonal, octagonal, oval, or square shape
Raised marble, granite, vitreous, ceramic, or vinyl flooring
Open from all sides with a railing
Single or multi-tiered sloping roof
Arched exterior sections
Hard benches, sit-outs, or cushioned chairs
Brick-n-mortar gazebos will last as long as you want them to. Besides, they are high-end status and style statements. Hence,a capital investment. Opt for this type if you are thinking about a long-term solution.
Floating
These are the elite and exclusive gazebos built on an under-water foundation. They look like a mini-villa floating on a water-body. They usually have a platform on which the structure is built, and use solid teak or oak wood for the entire body.
There is no standardization, to each their own luxury floating gazebo -- be it Zen, Colonial, or Oriental.
Do you have a pond in your villa with lotuses blooming? Then nothing less than a floating gazebo will do.