Product Details
Shipping & Returns
Price Match
Our Guarantee
When you take everything into account the time and money that you invested on your vehicles, it is only correct that you keep them protected by having a carport into your property. This Arcadia carport from Palram will protect your vehicle from the harsh weather elements and will avoid any interior or exterior damages of your vehicle. No matter what the weather is, your vehicle stays safe and shielded from the harsh elements. Aside from the protection that the carport gives, you can be sure that your vehicle is secured from theft, vandalism and even damages that may be bought by natural disasters. This carport kit may not be only a shield for your vehicle but it can be of multi-purpose. You can use it as an extra storage space for your belongings, safe play area for your kids and storage for your motorcycles, bikes, ATV's and bikes. The Arcadia carport kit is a highly resistant, safe polycarbonate carport/multi-purpose structure that is designed for the superior protection of your car and other vehicles all year round. It transmits natural sunlight while providing up to 100% protection from harmful UV sunrays. It has a lifetime resilient polycarbonate plastic glazing, does not fracture, brittle or turn yellow over time. It is sturdy, anti-rust aluminum structure offering ample shading and most of all, it is specially engineered to withstand any harsh weather conditions. It allows easy access and car parking, clean-lined and is functionally designed to be maintenance-free.

Features:
Virtually unbreakable, advanced engineered clear
6 mm twin-wall polycarbonate roof panels are high impact, shatter resistant and protect from inclement weather
Maintain their integrity, provide complete UV blockage and are 100% UV protected
They do not discolor, fracture or become brittle over time
Rust-resistant, anthracite powder-coated frame made of heavy-duty aluminum and laser cut galvanized steel connectors
Ready to assemble pre-drilled profiles
Integrated gutter and gutter heads allow you to easily channel and collect rainwater for a sustainable irrigation system
Safe, quick and easy DIY assembly
Slide and lock roofing installation
Ready to assemble pre-cut panels
Anchoring requires a solid level surface
Anchoring and foot-pads included
Secure the carport to the surface of your choice
The structure can be easily relocated
6 sturdy and durable 8.8 cm aluminum poles
Specifications:
Assembled Dimensions: 11'9"W x 35'2"L x 7'11"H
Internal Dimensions: 128"W x 169.5"L x 86.2"H
Eave Height: 77.2"
Covering Area: 414.3ft2
Storage Area: 150.6ft2
Product Volume: 1082.3ft3
Wind Resistance: 75 miles/hr
Snow Load: 30.7 lbs/ft2
Light Transmission: 15%
Polycarbonate Panel: 6mm
Shipping Method: Shipped via LTL Motor Freight Only, Curbside Tailgate Delivery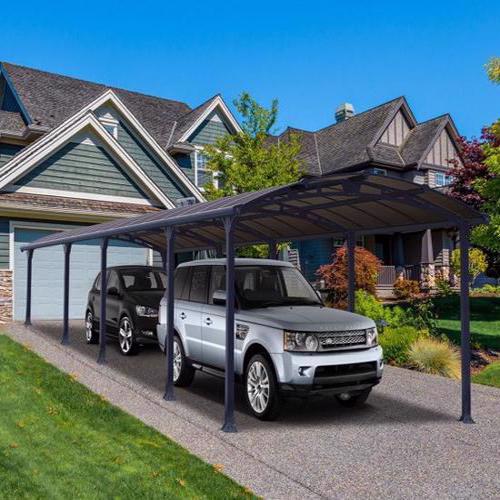 QUESTIONS & ANSWERS
Have a Question?
Be the first to ask a question about this.
Ask a Question