Product Details
Shipping
Price Match
Our Guarantee
Introducing our Palram - Canopia Chalet 12' x 10' Aluminum frame greenhouse kit. The Chalet greenhouse offers 112 sq ft of storage space for your plant with high vaulted ceilings for taller plants or even vines! This greenhouse comes standard with 2 adjustable roof vents included to let the fresh air in! It's double swinging french doors allow you to easily move things in and out. The entry way comes with a ramp to help you wheel things in over the threshold bump with ease. With over 8 feet of headroom you'll have plenty of room to move around inside without worries of low ceilings like most greenhouses. Made with heavy duty aluminum finished with a powder coated charcoal gray paint your new garden house is sure to last for many years to come! Your friends will all be impressed when they see your new building has a cathedral style roof design with a touch of European appeal.

Included in your kit are step by step instructions written with the novice in mind to help anyone create and enjoy a greenhouse in no time. The Chalet uses a sliding panel system making assembly a snap! Estimated build time is usually about 2 days for 2 adults. The building will attach to whatever base you choose to build from concrete or wood to hold it down (base materials not included). The aluminum framing is rust resistant and the panels are made from a very durable polycarbonate. Using superior materials insures your greenhouse will last for many years to come! Through the years you'll also enjoy little to no maintenance. No painting or upkeep is required and easy cleaning any dust build up can be done with a simple hosing.

The Chalet greenhouse is great for more than just gardening! Our customers love to make this area their new sitting room to enjoy some relaxing and leisure activities. Make it your own and design a unique inside how you like it best with lots of plants and seating.

Vaulted ceilings provide plenty of space for trellising
Over 8 feet of headroom
Two vent windows and hinged double doors allow abundant air flow
Rust resistant aluminum frame

Virtually unbreakable Polycarbonate panels are low maintenance
Extra durable for years of enjoyment!
Specifications

Model: HG5400
Brand Name: Palram Applications LTD
Color: Charcoal Grey
Materials: Aluminum and Polycarbonate Panels
Roof: Clear Twin-Wall Polycarbonate Panels
Wall Panels: Crystal Clear Polycarbonate
Usage: Assembly Required (2 people recommended and 48 hours)
Ventilation: 2 Built-In Adjustable Roof Vents
Greenhouse Type: Free Standing
*Foundation materials not included / provided by owner; concrete or wood decking recommended

Dimensions & Weight

Width: 11.98' (143 3/4")
Length: 10.04' (120.5")
Peak Height: 8.86' (106.3")
Weight: 218.5 lbs
Shipping Method:
Shipped via LTL Motor Freight Only, Curbside Tailgate Delivery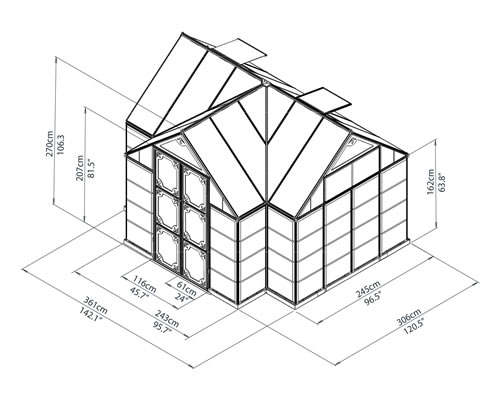 The greenhouse is great and installation was a breeze.
Hi Levishe, I am so happy with the greenhouse and how wonderful it is. It was such a pleasure doing business with you. I will be buying from you again in the near future. Thanks a bunch!
I am very impressed with the customer service
I love this greenhouse. It's large and spacious, with plenty of room for all my plants! This is my first greenhouse, but I don't think it will be my last! Thanks Levishe for the wonderful customer service!
Excellent service
I cannot say enough about how great Levishe was. I had a number of questions, and they always answered them quickly and was very helpful. The shipping was fast, the packaging was excellent, the quality is super and it looks great. I have already recommended this greenhouse to my friends, and I would definitely buy from Levishe again.
Looks really nice!
I'm so happy I found this company. Very fast shipping and excellent customer service. My order arrived in perfect condition and it's exactly what I wanted. I'll be ordering more things from these guys soon!